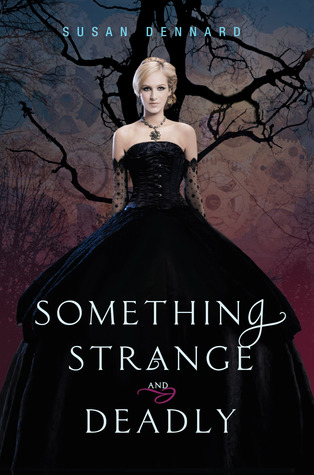 Something Strange and Deadly
by Susan Dennard
July 24, 2012
HarperTeen
388 pages
Source: I won an ARC in 2012 and have now read this edition twice. I fully intend on buying a finished copy.
Synopsis:
There's something strange and deadly loose in Philadelphia...
Eleanor Fitt has a lot to worry about. Her brother has gone missing, her family as fallen on hard times, and her mother is determined to marry her off to any rich young man who walkers by. But this is nothing compared to what she's just read in the newspaper—
The Dead are rising in Philadelphia.
And then, in a frightening attack, a zombie delivers a letter to Eleanor... from her brother.
Whoever is controlling the Dead army has taken her brother as well. If Eleanor is going to find him, she'll have to venture into the lab of the notorious Spirit-Hunters, who protect the city from supernatural forces. But as Eleanor spends more time with the Spirit-Hunters, including the maddeningly stubborn yet handsome Daniel, the situation becomes dire. An now, not only is her reputation on the line, but her very life may hang in the balance. (Goodreads Summary.)
My Take On It
An original blend of historical, paranormal, and a slight touch of steampunk,
Something Strange and Deadly
is an impressive package to savor. Set against Philadelphia during the Victorian period, Dennard's debut explores what it would be like if zombies or
walking corpses
were frequent tormentors in the past. A sensational story, complete with a fresh and lovable cast, SS&D is entertainment with parasols and petticoats done right!
At the heart of this story is heroine, Eleanor Fitt. It's been six years since her father's untimely death, and the last three have been spent stressing over her family's finances. Eleanor's brother, Elijah, has been away during this difficult time. Despite Eleanor's pleading letters to her brother, Elijah hasn't returned to resume their father's work. Eleanor carries the responsibility of managing the Fitt's dwindling fortune, and without Elijah home to take over, Eleanor's hand will be swiftly sold to the nearest and wealthiest of suitors.
Circumstances only get worse on the day of Elijah's expected return. Instead of Elijah, Eleanor is greeted by a walking corpse with a hand-delivered note – signed by Elijah himself! Elijah is in trouble, and even more peculiar is the corpse's behavior! Desperate for answers, Eleanor turns to a band of misfits, known as, the Spirit-Hunters; they're the ones who put the dead and other supernatural threats to rest. Hesitant to work with Miss Fitt at first, the Spirit-Hunters later accept her request once a discovery is made; spiritual energy radiates off the piece of paper – meaning, Elijah has attracted attention from the wrong sort. It is presumed a necromancer may have Elijah, but can the Spirit-Hunters save Elijah and the city when the count of animated corpses continues to rise? And can the same necromancer raising the dead be accountable for taking Elijah too?
Laced with mystery and dark magic, Something Strange and Deadly is a fast-paced page turner. There are more plot threads at work here, and by the time you reach the explosive ending, you'll be pleasantly surprised by Dennard's ability to keep you hooked. Sure, some puzzles are easier to solve than others, but Dennard has a few tricks up her sleeve you won't see coming; everything comes full circle. Plus, the characters in this series make the adventure even more memorable!
Eleanor Fitt is a feisty little thing. Her intellect and quick wit make her a stand out. She's practical and not very invested in living a lavish lifestyle. Her curiosity will often lead her down dark roads, but she's always willing to fight. She's snippy when she has to be, and her retorts will make you laugh! She has such fond memories of her brother, and she'll do just about anything to save him. Eleanor does have moments of weakness; her choices aren't always the best, but she does take the steps needed to fix what needs fixing.
Eleanor's chemistry with Daniel, the infuriating and yet charming inventor and Spirit-Hunter is easily one of my favorite parts. Behind Eleanor and Daniel's amusing banter is a romantic pull so undeniable, yet, Dennard would rather tease you with little moments, then set their potential love story ablaze. Just to give you a preview: Daniel's pet name for Eleanor is "Empress," and I swear, every time he uses it, I melt a little; while the pet name might've derived out of spite, "Empress" later becomes Daniel's way of expressing affection for Eleanor. While Daniel may keep Eleanor at an emotional distance, he'd never leave the damsel in distress; still, she proves she's just as capable as he is more times than none.
Next to the endearing Eleanor and Daniel, stand the dependable Joseph and Jie. Joseph is a sophisticated Creole, who is wise and level headed. He is well-trained in the art of white magic and uses electricity to counter darkness. Jie is a fierce Chinese girl obliterating Philadelphia's dead, and she's doing it in boy's clothes! Jie lives an unrestrained lifestyle. She's in total control of her choices, and not once does she give in to social standards or expectations. Together, Joseph, Daniel, and Jie make up the Spirit-Hunters team. Eleanor proves her worth to the gang, and she tags along as an asset throughout. I just love how the foursome have vastly different personalities, and yet, they balance each other out and work well together too.
I really could go on and on about this story, especially because I have now read it twice. The characters come alive, and Dennard's ability to transport the reader to Philadelphia in 1876 is a mesmerizing feat. The twisted addition of zombies is an exciting bonus! Not to forget, there's diversity, feminism, and humor! To say the least, I appreciated Dennard's work a lot more the second time around. She certainly deserves more recognition, and my plea for you is to take notice.
Connect with author Susan Dennard:
website
/
goodreads
/
twitter
/
facebook
Read more reviews of Something Strange and Deadly:
Alexa Loves Books
Paper Cuts
Reader of Fictions