Hola, fellow readers! I had some really great books come my way this week, here we go!
From
NetGalley t
hree titles were approved:
Rockoholic
by C.J. Skuse
November 1, 2012
With my love for music themes in books this one was a given. And you guys, there is a picture of that dude with his sunglasses off and he is is
HOT
. In case you were curious:)
Thank you Scholastic!
And All the Stars
by Andrea K. Host
October 1, 2012
This one got a really great review by the gals over at
The Book Smugglers.
It's science fiction (SQUEE!) and has art themes!
Thank you Ms. Host!
Send
by Patty Blount
August 1, 2012
This one is about cyber bullying and/or sexting. Either way it's a full on YA contemporary issue book which I confess I LOVE:)
Thank you Sourcebooks Fire!
From
Edelweiss
I received:
Where the Light Falls
by Katherine Keenum
February 5, 2013
I saw this book on a couple of bloggers Sunday Post's last week and was intrigued. It's historical fiction that takes place during the Belle Epoque period in Paris. Heck yeah, I want to read that!
Thank you Berkely Trade!
From
DAC ARC Tours
I received:
Renegade
by J. A. Souders
November 13, 2012
I just stared this one and so far so good!
Thank you DAC ARC Tours and Ms. Souders!
I received a book from
Library Thing's Early Reviewers Program
:
Sailor Twain
by Mark Siegel
October 2, 2012
Guys I am so excited! This will be my first graphic novel. And it is BEAUTIFUL inside! Look:
ooohhh...ahhh...
How awesome is that! Can't wait to start it! Thank you Library Thing!
From
Paperback Swap
I received:
The Hollow Kingdom
by Claire Dunkle
2006
I have been wanting to start this fantasy series forever!
Waiting for You
by Susane Colasanti
2009
This will be my second Colasanti book:)
Here is what you may have missed on the blog this week:
Monday
I reviewed
The Crown of Embers
by Rae Carson
Wednesday
I reviewed
Crewel
by Gennifer Albin
Friday
I reviewed
Chasing The Skip
by Janci Patterson
Coming up this week:
I'll be revealing the cover of Misty Provencher's (
Cornerstone
and
Keystone)
New Adult book
Hale Maree
on Monday. On Friday I'll be revealing the teaser and hosting a giveaway for M.K. Hobson's (
The Native Star
and
The Hidden Goddess)
latest work
The Warlock's Curse.
In between look for reviews of
Speechless
by Hannah Harrington,
Black City
by Elizabeth Richards, and
The Brides of Rollrock Island
by Margo Lanagan. I'm also working on another discussion post all about YA 'Bad Girls' :)
And on Tuesday, October 23rd, the Spooktacular Giveaway Hop
starts so be sure to check back and enter!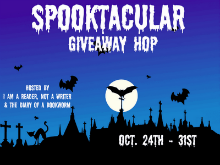 That's it for me. What was your week like?