Josie Griffin is Not a Vampire
by Heather Swain
September 13, 2012
Speak
272 pages
Source: Around the World Book Tours
Synopsis
A hilarious take on the paranormal trend--
Twilight
meets
The Breakfast Club
!
When former good girl turned rebel Josie Griffin gets busted for what was in her mind perfectly acceptable revenge on her cheating dog of a boyfriend, she lands herself in anger management therapy. It could be worse: it could be juvie, or she could be a zombie cheerleader like the rest of her former friends. But there's something strange about therapy--these are not normal kids. There's the wannabe ladies man with a weird accent, Johann; the blindingly gorgeous Helios; Avis with his wild dreads; and Tarren, the sprite of a girl with a wicked temper. And all of them keep talking about "powers." Josie knows that has to be impossible, but strange things start happening, and nothing weird ever happens in Indiana. After all, there are no such things as vampires, werewolves, Greek gods, or fairies . . . right? (Taken from Goodreads.)
My Take On It

Let's face it, many would agree that the vampire genre has been done to death (sorry, couldn't resist!) and I am sort of in agreement with them. But, if it's written well, and doesn't feature the same tired storyline but instead offers something new and inventive, then I am all about THAT kind of vampire book. The premise of Josie Griffin is Not a Vampire, a rebellious but totally human teenage girl who winds up in an anger management support group for paranormal teens ( i.e; vampires, shapeshifters, faeries, and Greek gods), really grabbed my attention. It's inventive and original and sounds awesome, right? I thought so, so I requested it with high hopes. Unfortunately, this book, which had so much potential, fell short for me.
I was looking for something that would read like the tag line above suggested:
A hilarious take on the paranormal trend--

Twilight

meets

The Breakfast Club

!
Hey, I'm not ashamed to admit that I loved the
Twilight s
eries. I credit that book for inspiring me to start reading again. And
The Breakfast Club?
Get out! LOVE John Hughes. LOVE. HIM. I'm pretty sure I know most of the lines in that movie and could kick any one's ass in John Hughes film trivia. And for me, any book that adds a healthy dose of humor scores
major
bonus points. But, other than the fact that there is a vampire in
Josie Griffin
, and that there is one scene of a circled up group therapy session, and there are a
few
witty one liners and amusing scenes written in,
Josie Griffin
has nothing in common with the above statement.
The beginning started strong. Teenage Josie is in court awaiting sentencing for bashing in her ex boyfriend's windshield with a baseball bat when she discovered he was screwing around with her best friend. Ordered to pay damages, court fees, and attend
community service as well as an
anger management group for teens, Josie knows that she has gotten off easy. She feels bad that she has upset her parents, she's worried how this will affect her chances to get into the University of Chicago where she hopes to study journalism, but she really doesn't feel too bad about what she did to her ex's car. And yeah, he does sound a like a total ass. She's not only lost her boyfriend, but her two best friends as well. As a result Josie has sort of "gone to the dark side." She's ditched her cheerleader look for a more edgy, emo appearance and started up a blog where she vents all her frustration to the world. Her only friends are a collection of angry, broken hearted online acquaintances who comment on her blog posts.
Josie attends her first group therapy session and it immediately becomes clear that this is not your average group of teenage misfits. There is something very strange about Tarren, Avis, Johann, Helios and their counselor. By the end of the session Josie is well and truly freaked out. The entire group thinks they are paranormal creatures and she promptly goes home to blog about about the bizarre encounter.
Up to this point I was really enjoying the book. I liked the character of Josie. I felt sorry for her because I've been burned by boyfriends and friends in the past (
although I have never taken it to extremes like she did)
. Josie's a good girl, but she's hurt and she's pissed. However, as we begin to meet and learn more about the secondary characters in the book, the paranormals, my disappointment begin to grow. The characters were, for lack of a better word, cartoonish. They bordered from outright silly and farcical (Johann the vampire) to bland and blah (Helios the Greek god.) Tarren the faerie and Avis the shapeshifter were probably the most interesting of the bunch, but only because Tarren was a frightening little tyrant and Avis had dreads. In other words, I was not blown away by any of them.
Because of The Breakfast Club reference I was hoping to see more time in the therapy sessions. More of this: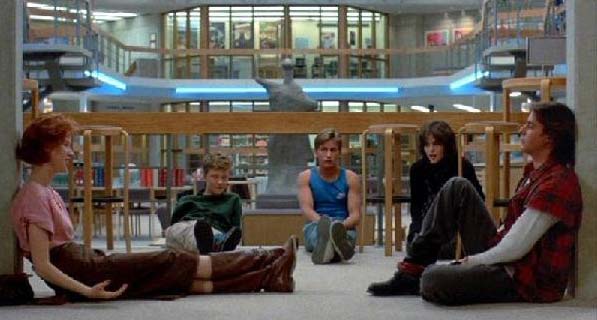 Coolest high school library, EVER.
Source


You know, time spent really getting to know the characters, watching some conflict evolve between them, and having some cool cathartic moments in between. Instead the story morphed into a weird
Scooby Doo
-ish mystery with a bunch of teen girl runaways going missing from the shelter where Josie has been assigned community service. It's not that the mystery was bad, but the plot line was unexpected (see any mention of it at all in the above synopsis?) and it took away from what I was hoping to read about which was a group of kids with paranormal abilities slapped in a group therapy session to discuss there issues with anger (aka feeding on humans, changing humans into animals, and shedding their skin to chase rabbits during a full moon,) all while spilling their secrets to a human teenage girl who knows nothing about that world.
In addition, I found the romance between Josie and one of the paranormals to be lacking. Instead of a rebound, un-romantic romance element, I think I would have rather read about Josie moving forward, making new friends, even solving mysteries, and discovering that she could do it without some guy in her life. Josie's a smart, cool chick, she doesn't have to have a boyfriend just for the sake of having a boyfriend.
With all these issues there are some good things about Josie Griffin is Not a Vampire. I thought the fact that she wanted to go to college and become an investigative reporter (even if it was a bit Nancy Drew-like) to be very cool. I liked that she recognized her past mistakes and was smart and responsible enough to make amends so as not to muck up her future goals. That's a positive message.
I also liked that Josie was a blogger. Hey, why wouldn't I, being a blogger myself? She used her blog and her writing as a creative outlet to vent and work through some of her problems. That's cool.
I also appreciated that she branched out and put aside her preconceived notions about the paranormals and began to see them as true friends as the story progressed. Another good message: try not to be narrow minded or you may close yourself off to some really important and fun life experiences.
But I can't help but be disappointed by the lost potential of this book. The writing was good, the character of Josie was likable, and as I said, the premise sounded awesome, but unfortunately it just didn't work for me. But, I could see how other readers might feel differently and really love what Josie Griffin is Not a Vampire has to offer. I don't know for sure, but its possible that this is the start of a paranormal/mystery series. It felt episodic in nature and was left open-ended enough to accommodate a sequel or more. I encourage you to try the book out for yourself. And when you do, email me and let me know what your thoughts were. Josie Griffin is Not a Vampire releases on September 13.
2/5 Stars
Check out author Heather Swain's website HERE.
I was unable to find any other reviews at this time, so if you read and review it, shoot me an email and I'll link your review below:)