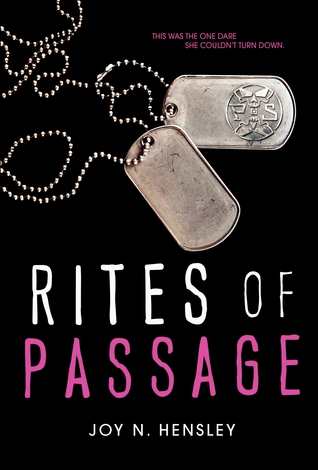 Rites of Passage
by Joy N. Hensley
September 9, 2014
HarperTeen
Format: e-ARC
Source: Edelweiss
A copy of this book was provided by the publisher in exchange for an honest review. This does not affect my opinion of the book in any way.
Synopsis:
Sam McKenna's never turned down a dare. And she's not going to start with the last one her brother gave her before he died.
So Sam joins the first-ever class of girls at the prestigious Denmark Military Academy. She's expecting push-ups and long runs, rope climbing and mud-crawling. As a military brat, she can handle an obstacle course just as well as the boys. She's even expecting the hostility she gets from some of the cadets who don't think girls belong there. What she's not expecting is her fiery attraction to her drill sergeant. But dating is strictly forbidden and Sam won't risk her future, or the dare, on something so petty...no matter how much she wants him.
As Sam struggles to prove herself, she discovers that some of the boys don't just want her gone—they will stop at nothing to drive her out. When their petty threats turn to brutal hazing, bleeding into every corner of her life, she realizes they are not acting alone. A decades-old secret society is alive and active… and determined to force her out.
At any cost.
Now time's running short. Sam must decide who she can trust...and choosing the wrong person could have deadly consequences.
My Take On It
Rites of Passage
is a story of perseverance and empowerment. It is the type of story that asks you to take notice of the world. Prejudice and hate continues to exist, and often times, little is done to combat such negative and harmful behavior. Sometimes, you have to take matters into your own hands and fight intolerance with a great deal of emotional, mental, and physical resolve. This story is brutal and intense, but it's also honest and real; it forces you to think and drives you to feel everything there is.
Sam McKenna discovers the monsters of this world are often those who value senseless and outdated principles, and they can be found just about anywhere; the monsters she encounters at her prestigious military high school are few, but they're cadets who are ranked higher than she is, and they'll do anything to get her to leave. She'll later realize, it isn't only a few cadets who want Denmark Military Academy (DMA) to remain an all-male high school. There's a secret society following Sam's every move, and they've come out of hiding to make themselves known; they're here to intimidate, humiliate, and harass Sam and her fellow female recruits; they're leading the charge to cast them out, and they won't stop until the mission is complete.
Written in a clear and straightforward style, Joy N. Hensley's debut is an effortless read, but as I mentioned before, it's also thoughtful and emotional. Sam's relentless personality kept me turning pages. Though the plot is full of action and moments of suspense, it was Sam who kept me reading. For every painful moment she suffers, Sam has an answer. Even when she's fighting her abusers single-handedly, Sam finds strength to keep going. She's not only fighting to survive and earn her keep; she's fighting to pave the way for girls of the future. Sam is fighting for opportunity and equality within the DMA.
Along the way, Sam makes allies. The supporting cast in this novel is impressive and varied. They truly stand on their own. Although, by far, my favorite secondary character is Drill Sergeant Stamm. Drill is Sam's true love interest, and while stolen glances and kisses make for a sweet and welcome distraction, it was Sam's and Drill's ability to work together that made me adore the match. They complement each other, and not to mention, they kick some serious ass! Trust me, you'll be rooting for this couple through and through.
However, the only downside of this novel is the ending. There's an open ending, but it isn't the ambiguity that let me down, but rather, the swiftness in how a few plot threads are resolved. It's not that questions are left unanswered, but important explanations are glossed over, and I wasn't prepared for such an abrupt conclusion. I felt more needed to be said, but that could just be the selfish reader in me being unreasonably demanding. Rites of Passage is a fantastic debut, and it'll leave you begging for a sequel, a companion novel or even extra content in the form of a novella. Sam's story can certainly continue, and it's this sense of believing that makes this debut so strong and admirable. I dare you to take a chance on it. I guarantee, you'll be just as invested in this story as I was.
Read more reviews of Rites of Passage: