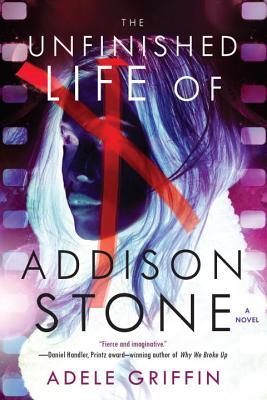 The Unfinished Life of Addison Stone
by Adele Griffin
August 12, 2014
Soho Teen
256 pages
Source: A copy was provided for blog tour purposes. Thanks Soho Teen!
Synopsis
National Book Award-finalist Adele Griffin tells the fully illustrated story of a brilliant young artist, her mysterious death, and the fandom that won't let her go.
From the moment she stepped foot in NYC, Addison Stone's subversive street art made her someone to watch, and her violent drowning left her fans and critics craving to know more. I conducted interviews with those who knew her best—including close friends, family, teachers, mentors, art dealers, boyfriends, and critics—and retraced the tumultuous path of Addison's life. I hope I can shed new light on what really happened the night of July 28. (Goodreads Summary.)
Opening Line
I only met Addison Stone once.
My Take On It
Guys I was really excited to be approached to be a part of this book's blog tour. I'm doing so few tours these days--not to mention so few reviews and blogging in general!-- that a book really has to stand out from the crowd and grab my attention enough to make me commit to a tour. The Unfinished Life of Addison Stone did just that. Once I read that synopsis I was hooked. Beautiful, misunderstood young visual artist dies tragically under mysterious circumstances? That in itself would've sold me. But add to that the unique way in which author Adele Griffin chose to write the fictional account of the life and final
days of Stone--interview format--complete with original art and photographs--that is a winning combo in my opinion.
The reader knows from the beginning the final outcome--we know that Addison dies by taking a nose dive off the Manhattan bridge one hot July night--but what intrigued me more than the mystery of how she met her end (Was it suicide? A tragic accident? Or was one for her two love interests somehow involved?) was the mystery of who Addison Stone really was. Through the various interviews in the book a picture of Addison is revealed, but which one is the "real" Addison? Who knew Addison the most--who's account is the most accurate rendition of the complicated, multi-faceted personality that comprises Addison Stone?
We hear from Addison's parents, her brother, her closest friends, her romantic interests, her art agent, her teachers and mentors and her doctors allowing the reader to form her own opinion of Addison. I found it really interesting how all of these people were convinced that only they knew the true Addison. I think that Griffin did a bang up job telling this story--I loved reading all the different interviews--I loved how realistic it all felt, it truly does feel like you are reading an investigative article of this young woman, and all the photographs (woo hoo for visual aids in books!) gave it the feel of a documentary--Behind the Music for a visual artist instead of a musician, if you will.
I also ADORED Addison's artwork which was included because hey, I am the holder of one art history degree and I feel that if you want some insight into an artist's mind there's no better way to gain it than to take a look at what they are creating. For me this book would not have worked nearly as well had all these visual additions not been included.
I wasn't expecting there to be some jaw dropping revelation at the end of this book and there isn't one--because this isn't a book that is meant to be written that way. The book wraps up with Addison's death, and there is no real resolution--but I have my own opinions about what happened to her in the end--as I think most readers will. But if you are the type reader who wants everything wrapped up nicely with all questions answered by book's end than The Unfinished Life of Addison Stone might leave you feeling a little bit unsatisfied. But for me it was an absorbing character study of a complex and tortured young woman and I really enjoyed it-- I loved how unique it is compared to so much YA out there--and of course I loved the art themes. Griffin's writing is smooth and engaging and because of the visual elements it really was a joy to leaf through and peruse.
In closing, I really enjoyed this one. It's different and it's tragic and it's totally engaging. Art lovers should definitely check it out-- but I think it's accessible to many more readers as well. I hope you like it as much as I did.
You can purchase The Unfinished Life of Addison Stone now.
As part of the tour, bloggers were asked to create something in honor of Addison.
I'm no artist but I loved the words in this book so I decided to use them in my "work." Hope you dig it :)